The WAVE Learning Model
Jump to navigation
Jump to search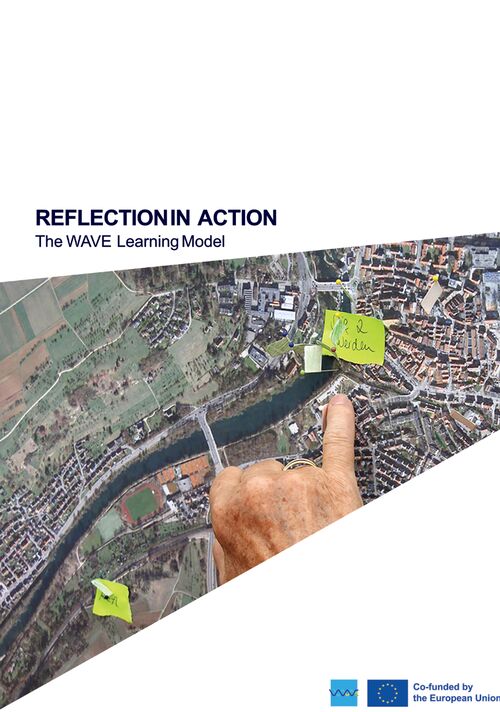 Reflection in Action: The WAVE Learning Model
>>> Dowload full report in PDF Format
Summary
This report is meant for students, teachers, researchers, community workers and other parties who want to work on the sustainable development of water areas and floodplains in an urban or peri-urban context. We want to share with you our transdisciplinary approach for developing a transnational online seminar in combination with local living labs.
The report includes a reflection of the lessons we learned by delivering an online seminar and organising intensive community participation-inspired workshops within the Belgian, Estonian, German, Italian, and Romanian Living Labs. These Living Labs offered all participants an opportunity to test theories and methods for working with communities. We did this by establishing partnerships with non-profit organisations and community groups that would ensure the integration of the perspective of all possible users of water landscapes.
In the section 'The WAVE Online Course' we present the structure, goals, content of the seminar, with the case study templates. These are illustrated by a selection of cases that highlight the dimensions of water landscapes, such as water as a natural system, as a living, cultural and sacred space. They show the role of water areas as blue and green infrastructure and a place for people to access and use. The planning aspects for water landscapes include community mapping, forecasting possible futures, collaborative goal setting, developing strategies, and implementation.
In the section 'The WAVE Living Labs: Seven Landscape Stories' each lab presents its local water landscape, the way the lab was developed and how it built the community, and what the results were. Here you also can learn from our reflection on the process, and learn from our failures and successes. For each lab we present an outlook on the expected impact and development beyond the lifetime of the project. The water landscapes include rivers, ponds, lakes, lagoons, and canals.
The section 'Learning in and with WAVE Living Labs' presents the competences for students, teachers, researchers, and community members. It provides an assessment strategy with forms and rubrics that help students and assessor alike to carry out a transparent assessment. The competences of academic staff focus on those which are relevant for organising a living lab and collaborating with communities.
The WAVE programme used various digital methods for learning and collaboration. The section 'Digital Living Labs' shows the potential of Web-GIS, using story maps for storytelling. More methods are presented here.
If you are an academic, learner or community member seeking to develop Living Labs, or you are already working within that framework, we share our water landscape story in the hope that you will benefit from our experience and our evaluation of the Living Lab processes we carried out.
In the section 'Lessons learned from the WAVE Living Labs', we reflect on the work we have done, and draw a few conclusions on how academics and communities can address the current challenges for water landscapes by activating the agency of design education in change-oriented, socially-just participatory research processes.